Will You Be Surprised by the Return on Investment for Your Garage Door?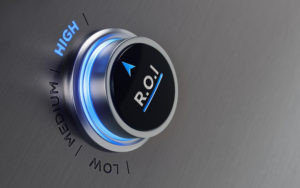 There are a wide range of factors to consider when deciding on which home improvement projects to invest in, but if you are like most homeowners the return on investment will be one of the factors. At Dynamic Garage Door we find that our clients are often surprised to see just how impressive the return on investment is when they invest in a new custom garage door. Keep reading to learn more and then contact us at 855-343-3667 to get your quote.
The Return on Investment Formula
To fully understand your return on investment, you will take the current value of your investment, subtract the cost of investment, and divide it by the cost of your investment. This gives you a percentage that is equal to your return on investment.
For example, let's say you made a $1,000 investment that you sold a year later for $1,200. You would divide the profit ($200 = $1,200 – $1,000) by the cost of the investment ($1,000) for a total of 20%. The key is to not spend more than you will gain in value on your improvement, though many people are fine with breaking even. After all, if you can enjoy your home more for the next ten years because you installed a custom gate, then breaking even is well worth it.
Garage Doors Have the Highest ROI of All Home Improvements
Many people are shocked to learn that new garage doors are actually the #1 home improvement project when it comes to return on investment. This is because the garage door plays so many important roles. It helps keep your home energy efficient, it provides a safe space to leave your vehicle, and it can act as a level of security against break ins.
All that said, there is one reason that garage doors have such a high return on investment: They can greatly increase a home's curb appeal. Imagine driving up to a home that has a beautifully landscaped yard, freshly painted exterior, and beautiful windows. It sounds lovely – but now imagine that in the middle of all of that is a broken down garage door. This can cause serious issues. The fact that a garage door can have such a significant impact on the curb appeal of a home is partially responsible for the average 97.5% return on investment garage doors can bring.
Are You Ready to Learn More About Installing a New Garage Door?
If you are considering installing a new garage door but aren't sure if it is the right move for you, then we welcome you contact Dynamic Garage Door at 855-343-3667. You can see a gallery of our work online and you can also come to our showroom to see more examples. We are also happy to come to you for a free in-home consultation. Just call us now to learn more.